What is ASSIST?
ASSIST (Articulation System Stimulating Interinstitutional Student Transfer) is a student-transfer information system that anyone can access via the World Wide Web.
ASSIST transfer reports showcasing how course credits earned at one public California college or university can be applied when transferred to another. ASSIST is the official repository of articulation for California community colleges and the University of California (UC) and California State University (CSU) system.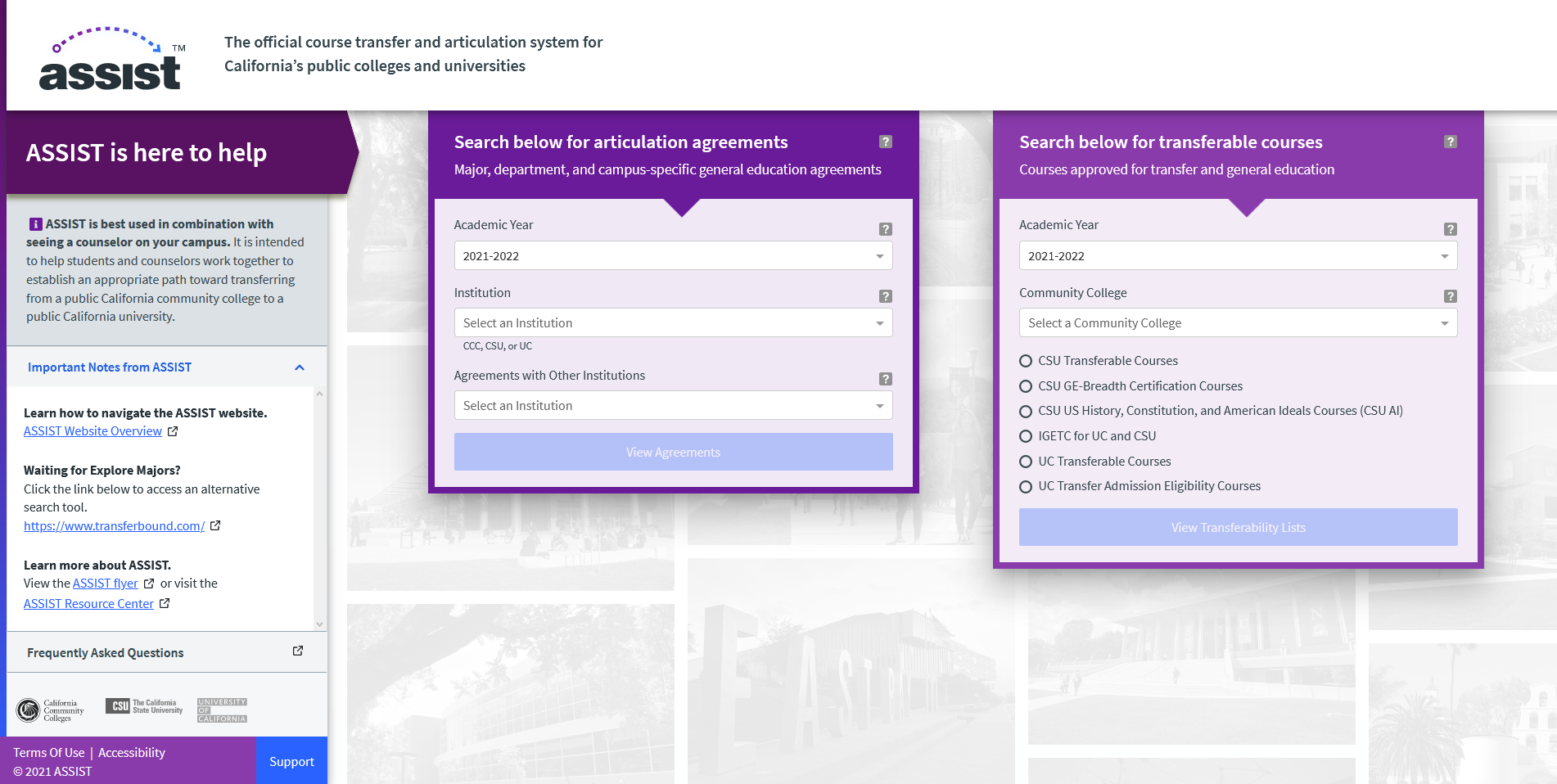 Benefits of ASSIST
Provides Up to Date Information
Assist.org is the official repository of articulation agreements for California's public colleges and universities and California community colleges.
The articulation agreements between California's colleges are routinely inspected to ensure all the information is up-to-date and relevant to contemporary standards.
Recommended Reading: Transferring with ASSIST | Ultimate Guide + Strategies
Suppose you are a student transfer in California. In that case, you can trust that the information on assist-org is accurate and up to date while serving the interest of the student transfer in identifying how course articulation for California's public colleges and universities works.
Displays Articulation Agreements (Major Agreements and Department Agreements)
If you currently attend a CCC, you can navigate to assist. org and enter the institution you currently attend. A list of transferable courses and major departments will pop up.
It is your job to select your intended major and identify whether the courses you are taking count as CSU transferable courses. California State University and the University of California system are the two largest higher education systems in California.
Related: Advanced Placement (AP) Credit | How Does it Transfer?
California colleges are interested in creating a universal articulation system for student transfer information. Check for relevant articulation agreements and keep up-to-date information regarding California colleges.

Transfer to a CSU or UC Faster with ASSIST.org
There are countless students who have been stuck at the community college level for four or five years. More often than not, students are delayed in transferring by the two-year mark because they either:
(1) Enrolled in classes that were not transferable to any public California colleges or universities
OR
(2) The student changed their major and were required to finish more courses.
Frequently Asked Questions About ASSIST.org
What is ASSIST.org?
ASSIST (Articulation System Stimulating Interinstitutional Student Transfer) is the official directory for course articulation for all of California's public colleges and universities. The information presented on ASSIST.org can be used to gauge what classes a student will have to take to transfer from a California Community College or to meet the basic requirements for the UC or CSU the student attends.
Who can use ASSIST.org?
ASSIST.org is available to all current high school and community college students in California who are looking to transfer or apply to University of California (UC) campuses, California State University (CSU) campuses, or independent institutions in California.
How do I access ASSIST.org?

You can access ASSIST.org by visiting the URL and identifying your current educational institution. You will also be redirected to include the institution you are interested in transferring to.
Does ASSIST.org provide assistance with college applications?

Although ASSIST.org representatives are not available specifically for college application assistance, ASSIST.org still has resources available and linked to help students complete the CSU/UC application and provides information and tips on letters of recommendation, essay tips, and much more.
Conclusion
ASSIST.org is the most important resource and service for California community college students interested in transferring. Suppose you want to transfer to UCSD as a Biochemistry major.
In that case, ASSIST.org will be the resource you use to see the required courses for transfer between your CA community college and the UCSD Biological Sciences department.
Overall, as the official articulation for California's higher education system, the utilization of assist.org is paramount to transfer successfully and within two years. Make sure you interact with your community college counselor to ensure you are taking courses that will transfer from one California college to another.