Do you know what Advanced Placement (AP) courses are? They closely resemble college classes that high school students can take to get a head start on their college education.
In this blog post, we'll define AP courses and explain why they're such a great opportunity for students. We will outline the basics of what AP courses involve, who should consider them, and how to decide if they're the right fit for you.
We will also discuss some of the benefits of taking AP courses and the challenges students often face. Finally, for those who are already taking or have taken AP courses, we provided tips for making the most of them. So read on to learn more about this valuable educational experience!
Advanced Placement Definition
Advanced Placement (AP) courses are college-level classes offered in high school. These classes are designed to challenge students and help them prepare for the rigors of college coursework.

AP courses are typically more demanding than regular high school classes and require students to complete advanced assignments and tests.
Successful completion of AP exams can earn students college credits, which can save time and money on their college education. Advanced Placement meanings are often misconstrued depending on what advanced placement meaning is to the institution.
In addition, AP courses can help students stand out when applying to colleges. As a result, taking AP exams is a great way for high school students to prepare for the challenges of college.
Types of Advanced Placement (AP) Classes
There are several different AP course offerings. The most prominent are:
AP English Language and Composition
AP Government and Politics
AP Human Geography
AP Math (Calculus, Statistics, etc.)
AP European History
AP World History
Who Should Consider Taking Advanced Placement (AP) Courses?
In high school, students have the opportunity to take Advanced Placement (AP) courses. These college-level courses can give students a head start on their college careers.
AP exams are offered in various subjects, from English and history to science and mathematics. But who should consider taking an AP course?
Generally speaking, high school students who are academically inclined and who enjoy critical thinking and challenging coursework should consider taking an AP course.
AP courses can be demanding, but they can also be very rewarding. AP students often receive college credit for their work, which can save time and money down the road.
In addition, AP courses can help students stand out on college applications. A student with phenomenal AP scores on several AP exams demonstrates to admissions offices that the student excelled in their AP classes and did exceptionally well on all AP tests.
Of course, there is no one-size-fits-all answer to this question. Every student is different, and each student's situation is unique. Ultimately, it is up to the individual student to decide whether or not an AP course is right for them.
How to Decide if an Advanced Placement (AP) Course is the Right Fit for You
AP classes are a great way to get a head start on college-level work, but they're not for everyone. If you're considering taking an AP course, ask yourself if you're ready for the rigor of college-level academics.
Do you have the time to commit to extra homework and studying? Are you comfortable with the pace of a college-level class?
Taking an AP class can also be a great way to get experience with the AP exam process, which can save cash and time when you're taking the exam for real.
Ultimately, the best way to determine if AP classes are right for you is to consider the practicality of good AP scores on the AP tests.
The AP tests are the most important consideration because your AP score will dictate the college credit you can receive. AP classes are meaningless if you fail to receive a three on the composite scores of your AP tests.
An AP exam score below a '3' is almost never awarded units by many colleges, if not the vast majority of colleges and universities. You will not even receive exemptions for college courses if your exam score is below a three.
Weigh your options carefully before making a decision, and talk to your guidance counselor if you are unsure which path is right for you.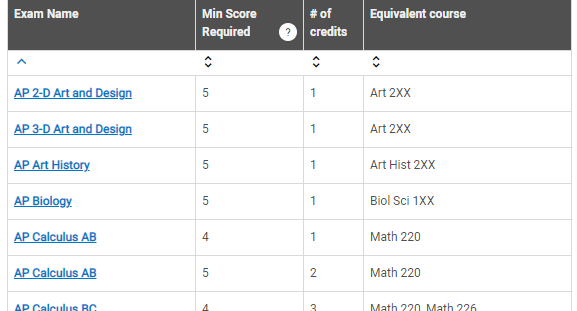 The direction you take in selecting majors will greatly impact your AP courses in high school. Majors are abundant at community college, and whatever you pick, there will likely be the major you transfer with.
Benefits of Taking Advanced Placement (AP) Courses
High school students often have the option to take AP courses, which are designed to be equivalent to introductory college classes. These courses offer a number of benefits.
Save Money By Earning College Credit
First, they can save students money by allowing them to receive college unit credit while still in high school. Advanced Placement (AP) courses are a great way to save cash on college tuition.
By taking an AP course in high school, students have the opportunity to earn college credit before even stepping foot on campus.
As a result, they can potentially graduate from college in less time or take fewer courses overall. In addition, AP courses often cost less than traditional college courses.
Thus, by taking advantage of AP courses, students can save significant money on their college education. In fact, according to one estimate, each AP course taken can save a student up to $3,000 on tuition.
With the rising cost of college tuition, anything that can help save money is worth considering. AP classes are worth taking for students looking to minimize their college expenses.
Experience College Coursework & Interesting Subject Areas
Second, they can give students an opportunity to get a taste of college coursework and decide if they are truly interested in a particular subject.
For example, students can take AP Italian Language and Culture if they are interested in learning about Italy and Italian culture.
Related: 6 Impacted Majors at UCLA you Should Know About | 2023
Some high schools may not offer this AP course, so it is best to do your AP research and identify whether your high school offers a specific AP course.
Stand Out in College Applications
Finally, taking AP courses can help students stand out when applying to colleges, as it demonstrates a willingness to challenge oneself academically.
Related: 5 Tips for a Strong College Application: Transfer Students
College admission officers understand the AP experience and recognize the challenge AP brings. For all these reasons, AP courses can be an excellent choice for high school students.
The Challenges Associated with Advanced Placement (AP) Courses
Most high school students are familiar with the Advanced Placement meaning, or AP, program. AP courses are college rank classes that give students the opportunity to earn college credit before they even step foot on campus.
While AP courses can be a great way to get ahead, they also come with their fair share of challenges.
Advanced Placement (AP) Courses are Rigorous
First and foremost, AP courses are rigorous. Students taking an AP course can expect to put in significant time outside of class in order to keep up with the material.
Many high schools try to limit the number of AP courses a student takes, especially if that student has not shown a propensity to succeed in traditional college prep courses.
Advanced Placement (AP) Exams & Advanced Placement (AP) Score
In addition, AP courses often culminate in a demanding final exam. While a high score on an AP exam can lead to college credit or advanced placement, a low score can have the opposite effect.
Your AP score is based on a multiple-choice section and a free-response section. The number of multiple choice questions or free response requirements differs on the exam type and AP class.
Anxiety & Stress
AP exams bring forth immense pressure to succeed. This pressure can lead to anxiety and stress for many students taking AP courses. However, with proper planning and preparation, students can rise to the challenge and reap the benefits of an AP education.
Tips for Succeeding in an Advanced Placement (AP) course
The meaning of Advanced Placement courses is designed to be more challenging than regular high school classes. As a result, they can be intimidating for students who are not used to being pushed outside their comfort zone. However, there are a few key things students can do to set themselves up for success in an AP class.
Develop Good Study Habits
First, it is important to develop good study habits. This means setting aside time daily to review material and work on practice problems. Students with a high GPA or distinct skills likely mastered the concept of good study habits.
Universities, colleges, and schools across the country receive applications from well-qualified students, but they cannot accept them all.
Therefore, good study habits are a baseline for succeeding in an AP class because failure in AP classes will undoubtedly reciprocate at university.
Take Advantage of Resources
Additionally, students should take advantage of resources like online forums and tutoring services.
Evaluate the prospect of transferring with your counselor and identify the AP exemption list that colleges and schools publicly disclose.
Devote all of your time to making sure you receive good scores on your AP exams. Colleges award credit depending on the score a student receives. So, higher scores are necessary to receive credit and exempt classes.
Stay Organized
Finally, it is essential to stay organized and keep track of assignments. By following these tips, students can position themselves for success in an AP course.
Related: When do UC Decisions Come Out? Announcing 2023 UC Decision Dates
Staying organized also means identifying the transferability of AP scores to community colleges or universities.
After receiving your AP scores report, the total scores will be sent to the registrar's office at the institution you are enrolling in.
The College Board, which created and implemented the Advanced Placement curriculum, generally releases the AP Score Report in Early July.
If you cannot find your AP Score Report, you should contact the staff at College Board to inquire about the issue.
Students can submit their College Board AP Score Report directly from the website. Remember that the official documentation will take roughly two weeks to reach your registrar's office.
Failure to keep this in mind can result in your application being denied or, even worse, the inability to earn credit on the AP course.
Embrace the Challenge
Another bonus tip is for students to embrace the challenge and rigor brought on by Advanced Placement exams. The curriculum is difficult if you are interested in AP Computer Science, AP Environmental Science, AP World History, or AP Calculus.
It is not intended for students who lack the mindset of academic success and discipline or for students who believe one AP course will be easier than others (although true, in relation to what?).
It can be easy to look at AP classes as a means of showing off or attempting to distance oneself from the rest of the students enrolled in college prep classes or honors. Embracing the challenge of AP courses will promote a healthy mindset when navigating an AP program.
High school students must find ways to differentiate themselves from others in today's rapidly competitive college admissions process.
The days when a 4.0 GPA was commendable and rare are commonplace at selective institutions like the University of Southern California (USC) or the University of California Los Angeles (UCLA).
Most high school students who submitted applications to the aforementioned institutions likely had AP credit.
Some students probably had transcripts of almost all AP courses, including fringe AP courses like AP Computer Science Principles.
Conclusion
If you're thinking about taking AP courses or are currently enrolled in one, we hope this article has been helpful. AP classes are challenging, but I hope this article has outlined a few things you can do to set yourself up for success.
We've outlined the basics of AP courses, who should consider them, and how to decide if they fit you. We also discussed some of the benefits of taking AP courses and the challenges students often face.
Finally, we provided a few tips for succeeding in an AP course. And if you still have questions after reading this article, don't hesitate to contact us – we would be happy to help!
California Transfer Support Network is a federally recognized 501(c)(3) organization and operates solely on donations from our generous donors. Our mission is to support California community college transfer students throughout the transfer process by providing free and accessible student support services.