Most community college students dream of transferring to their ideal university. For many, this means attending a well-known and respected school like San Diego State University.
However, the process of transferring can be fairly complex and competitive. As such, it's important that students take the time to understand how to transfer to San Diego State University before beginning the process. Transfer to SDSU using the information presented in this blog post.
What is SDSU?
San Diego State University is a public institution of higher education in southern California. Part of the 23-campus California State University (CSU) system, SDSU is one of the largest universities in the state, with more than 34,000 students.
The university is known for offering transformational research, international experiences, sustainability and entrepreneurship initiatives, internships and mentoring, and a broad range of student life and leadership opportunities.
San Diego State is committed to excellence and is known for its efforts in advancing diversity and inclusion. SDSU is world-renowned for its business education and ranks among the top universities for engineering. The school gains appeal for its pleasant location in sunny San Diego, California.
SDSU provides an excellent education that prepares undergraduates for their future careers while helping them develop into well-rounded individuals who contribute to their community.
Majors and Degrees Offered:
SDSU is a highly selective university with a wide array of programs that provide pupils with many options, including bachelor's degrees in 97 areas, master's degrees in 84 disciplines, and 21 doctoral degrees.
Want a degree in Public Administration? SDSU has a top-quality program for that. Interested in Biochemistry? Evaluate the rankings of the degree program by visiting this link.
Related Reading: CSU Apply Tips | California State University Application
SDSU Student Demographics
There are currently around 33,000 undergraduates enrolled at San Diego State University. The student population is fairly diverse, with undergraduates coming from around the world.
The vast majority of the school population is between 18 and 24. However, there is a growing number of older kids, as well. In fact, nearly 20% of enrollees are over the age of 25.
The majority of undergraduates are California residents. However, there is a significant number of out-of-state and international scholars. Roughly 20% of the student body is from outside of California.
The full-time SDSU undergraduate population comprises roughly 55 percent women and 44 percent men. Moreover, as the chart demonstrates below, the enrolled student population at SDSU is roughly 33 percent white, 32 percent Hispanic or Latino, 12 percent Asian, and 4 percent of Two or More Races.
There is a growing trend of transfers attending community colleges before transferring to SDSU.
In fact, nearly 38 percent of current students are transferring, many of whom come from the California Community College system.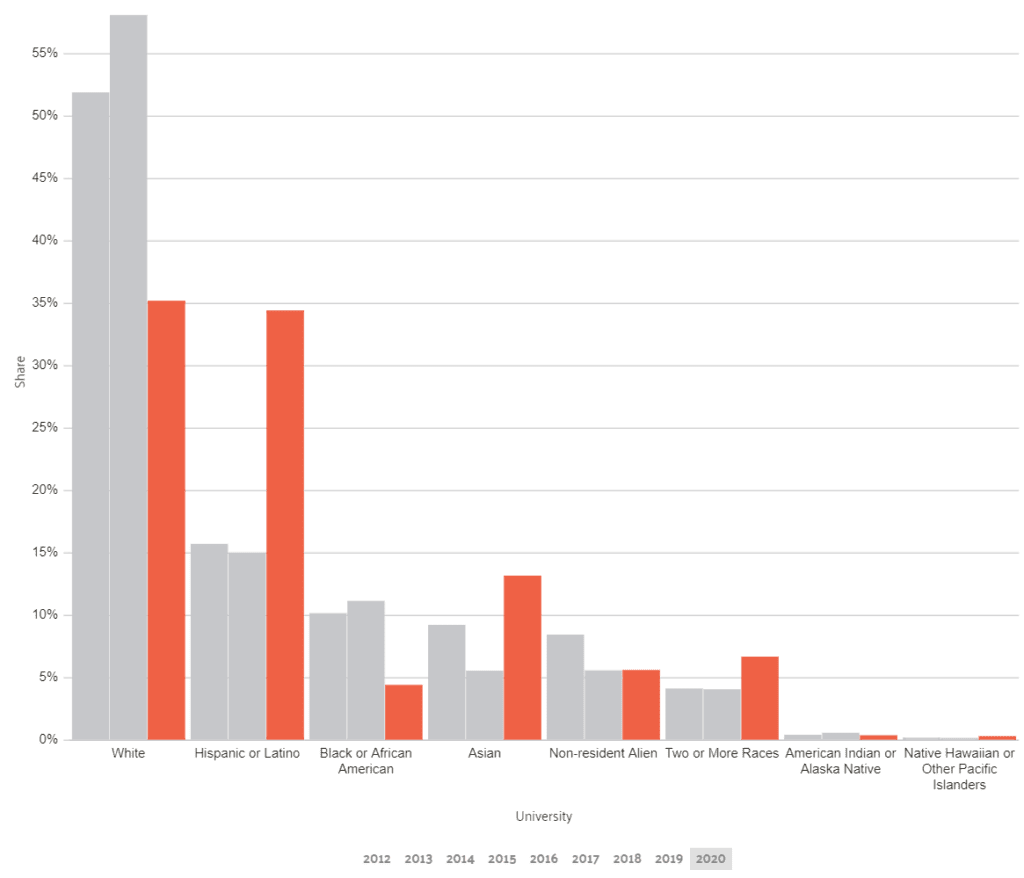 Step 1: Research the SDSU Transfer Process
The first step is to research the transfer process at SDSU. This means understanding the deadlines, requirements, and steps necessary for a successful transfer.
Admission priority is given to those who have the necessary application documentation. Identify the appeals process methods in the event that your SDSU transfer path is in jeopardy.
Once you have this information, you can begin to put together your application. Include all required materials, such as transcripts and letters of recommendation.
Transfer individuals would be wise to utilize SDSU resources to understand general education and how to properly apply through the Cal State Apply interface.
Related Reading: ASSIST Transfer Resource | Discover How to Transfer to UC or CSU with Ease
Step 2: SDSU Minimum Requirements for Transfer Students
For those wanting to transfer to SDSU, there are a few basic requirements that must be met. Requirements range from general education to major preparation, and they can all be calculated via Assist.org and by speaking with your community college counselor.
Unit Requirements
Firstly, undergraduates must complete 60 or more semester units of transferable coursework. 60-semester units translate to 90 quarter transferable units and should be acknowledged depending on the institution's schedule system.
Transferable units are defined as: "course units that are applicable to a bachelor's degree and do not include non-degree credit courses that are developmental, remedial, technical, or professional in nature"
CSU "Golden Four" Requirements
Students must also fulfill the "Golden Four" CSU requirements.
The Golden Four is a set of four essential abilities that all students should be taught (one course in each area:
Oral Communication
Written Communication
Critical Thinking
Mathematics/Quantitative Reasoning
You must have earned a grade of "C-" or higher in at least four courses that included these four topics.
The deadline for submitting all admission requirements (the Golden 4, units, GPA thresholds, and other criteria) is by the end of spring or fall for fall or spring admissions.
General education and major preparation equivalent courses are critical in the transfer admission process. As many as possible should be taken at your local community college, especially general education classes.
The CSU Channel Islands, CSU Dominguez Hills, CSU East Bay, Fresno State University, CSU Long Beach, CSU Los Angeles, CSU Sacramento, San Jose State University, and CSU Stanislaus have deadlines for completing winter semester admission requirements by the end of the prior summer.
Information pamphlets are probably located at your local community college transfer center.
Grade Point Average (GPA) Requirements
Lastly, SDSU requires students to have a GPA of 2.0 or higher to be eligible for transfer.
Transfer applicants must demonstrate that they will be contributing members of the SDSU community the minute they set foot on the SDSU campus.
Community college transfers need high-grade marks and ensure they are in good standing with their prior institution.
By meeting these simple requirements, students will be well on their way to transferring to SDSU and achieving their academic goals.
Major Preparation
SDSU instructs that students complete all preparation for the major courses they are interested in if it is necessary for admission to the specific major college they are applying to.
Students should refer to the SDSU College Catalog to identify the appropriate preparation courses for their chosen major. Please note: that this does not apply to nursing students who are transferring.
Furthermore, SDSU has varying GPA requirements for students depending on the major they declare. In other words, to be considered for admission to an upper-division major, SDSU requires a specified GPA requirement as dictated by the department.
For example, if your major is Aerospace Engineering, SDSU requires that you have a minimum GPA of 2.7, while students majoring in Computer Science only need a 2.00 GPA. To identify the required GPA for your major, please use this reference.
Step 3: General Transfer Pathway
SDSU encourages three general pathways for transfer students. Keep in mind that the pathway you choose should be dictated by your major.
SDSU has different pathways for different majors, and some transfer routes are not allowed for others.
For example, if you are majoring in Social Work, you cannot transfer with the Transfer Adhttps://transferca.org/uc-transfer-admission-guarantee-what-you-need-to-know/mission Guarantee (TAG) program or the Associate Degree for Transfer route (ADT) route.
However, if you are a business administration major, you can choose either the Associate Degree for Transfer (ADT) or the General Education program (GE).
Regardless of your route, please ensure you have completed all the necessary requirements for the programs and are in compliance with the SDSU department schools for a greater chance of being admitted.
Step 4: Speak with a Counselor
One of the most important steps to transferring to SDSU is speaking with a college counselor.
Your degree path is complete when you have the peace of mind that you are enrolled in the correct programs for the majors you are interested in.
Applicants should prioritize their documentation and transcripts and present a serious and compelling reason why the SDSU admissions office should accept them.
Transfer applicants represent the development of the institution they come from, and the vast majority of applicants accepted at SDSU are California residents.
Speak with the admissions office to inquire about previous admission data and demographics while focusing specifically on your degree path.
Whether you are a business or an education major, applicants should prioritize the education path deemed most efficient and in good standing with your community college counselor.
Step 5: Apply
To be accepted, you must apply through the proper channels. California State Apply (CSU Apply) is the official resource for applying to various CSU colleges.
The priority application filing period for Fall 2023 admission is October 1, 2022-November 30, 2022.
Transfer students must submit a regular admission application alongside their transfer pathway documents. It is critical that students follow proper instructions to make sure they are granted admission consideration and scholarship recognition.
Related Reading: CSU Apply Tips | California State University Application
Extra Tips
Have your transcripts ready and speak with a counselor to evaluate your major and general education credits.
Scholarships are available for all types of students, and our team is more than willing to explore the specific scholarships available to you.
On average, students do not enter school with scholarships, and many applicants miss out on the prospects of free money for college.
California is also an expensive place to live, and the cost of living should be factor applicants consider when financing their education.
Speak with the financial aid office to determine your eligibility for federal aid programs. California also provides specific financial aid programs to help students pay for college. Completion of financial aid documents is a top priority.
Conclusion
If you're interested in transferring to San Diego State University, our step-by-step guide can help make the process easier.
By understanding the deadlines, requirements, and necessary steps, you'll be on your way to starting classes at SDSU this fall. And if you have any questions along the way, don't hesitate to reach out to us for assistance. We're here to help!
California Transfer Support Network is a 501(c)(3) nonprofit organization that runs solely on our donors' support. Our costs are minimal, meaning most donations go directly into student assistance and support programs. Please consider making a donation or volunteering for the chance to receive a Letter of Recommendation.
Let us help you submit your transfer applications using our website's contact forms. Our team is committed to helping you utilize all SDSU resources to transfer successfully.
What are you waiting for? Contact us today!