Community college can be a great option for students who want to save money on tuition, get a feel for college life, or decide on a major. Community college is often more affordable than four-year universities, particularly for students who may not have the financial resources to cover the cost of a four-year degree. In this blog post, we will analyze community college pros and cons and give you, the reader, a first-hand look at some of the overlooked factors regarding community college pros and cons.
However, there are also some potential drawbacks to attending community college. In this blog post, we'll explore some of the pros and cons of community college so you can make an informed decision about whether it's right for you.
Community College Pros and Cons List
Pro #1: Community College Can Be More Affordable
Affordability is one of the most significant advantages of a two-year college education. One of the largest benefits of attending community college is that it is often more affordable than a four-year school.
Community colleges provide affordable and accessible education for millions of Americans and are a great option if you want to save money on your education.
In addition, many community colleges offer financial aid and scholarships to help students cover the cost of tuition. There are several elements to the cost of tuition and fees.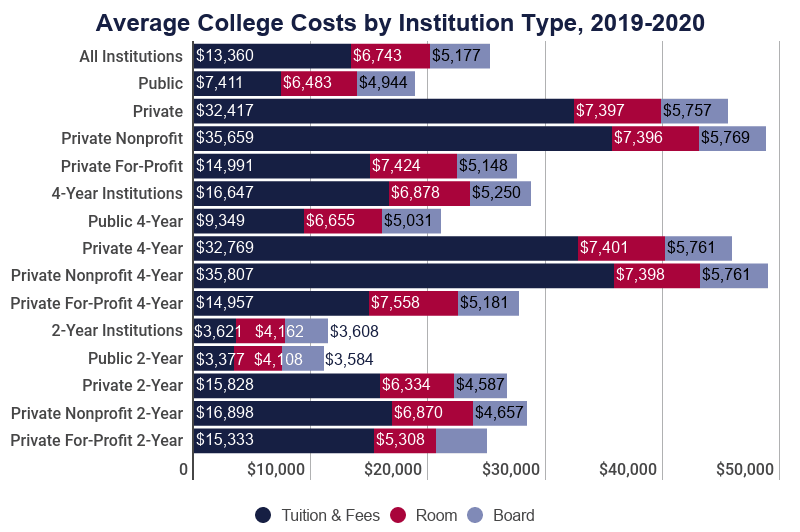 Still, this reason demonstrates how, when itemized down, a community college is far cheaper than a four-year university while finishing with the same people you graduated high school with.
Cost Per Unit
College costs are often calculated by the course's price per unit or credit hour. For example, if you earn 4 credits for a Biology 101 class, the cost of that class can be determined by:
1 credit hour = X amount of dollars.
The price per unit of a community college course is significantly lower than at a university. According to the Education Data Initiative, the average public, 4-year university charges $390 per credit hour for in-state residents, with the average class standing at 3 total credits. Therefore, the total cost of a class would be $1,170.
3 credits x $390 per credit = $1,170
This is just for in-state students at a public four-year college. Private universities and out-of-state prospective students will have to deal with higher costs per credit hour than the average student.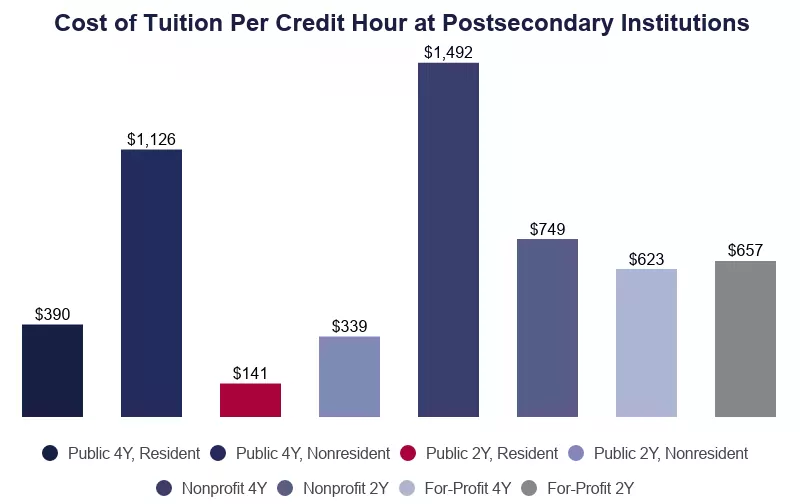 Community College Average Annual Cost
According to the National Center for Education Statistics,
Community College tuition is nearly 60% cheaper than 4-year public programs and 80% cheaper than private colleges.
Of course, the cost per credit hour is a significant reason why community colleges tend to be less costly, but other factors also play a role.
For example, attending four-year college can have other costs such as textbooks, school health fees, and those incurred from the general college experience.
Related: What Is an Associate Degree? Requirements, Costs, and More
California Community Colleges Rank First in the Nation for Affordability
California has the least expensive community college system in the nation. Tuition at a California community college is less than half of the national average.
$1,310 is the cost of in-state tuition for the average community college in California.
$7,730 is out-of-state tuition.
For 4-year public institutions, annual in-state tuition and fees total $8,260.
In-state tuition in California is 39.1% of the average cost of community college attendance.
Save on Campus Housing and Transportation
In addition, attending a community college generally means attending a local two-year school. Community college students can receive their community college education closer to their homes, making post-secondary education a more convenient option.
Unlike a four-year college, where students will pay for housing, food, and other related expenses, public community colleges typically do not offer lodging or student housing accommodations.
As such, if you attend community college, you are doing so with the understanding that you cannot live in on-campus housing and will have to travel to school when needed.
The lack of a student dorm life can benefit or negatively benefit those who attend community college, but it depends on your personality.
Many community college students do not have to pay for lodging or other expenses related to living at school. Many enjoy avoiding student loan debt by living with their parents or friends.
Pro #2: You May Be Able To Transfer Credits To A Four-Year School
Another pro of community college is that you may be able to transfer your credits to a four-year school if you decide to continue your education after earning your associate's degree.
Many community colleges have articulation agreements with four-year schools that make it easy to transfer credits. These agreements often guarantee that credits will transfer, which can take some of the stress out of the decision-making process.
Earning Transferable Credit has Never Been Easier.
The landscape of higher education today has reformed to include programs and policies that allow students to take the initiative in their education.
Whether you attend your local community college or four-year university, various programs allow students to earn college credit while receiving their high school diploma.
Dual Enrollment
Known as "Dual Enrollment," these programs allow high school students to graduate with college credits that can be applied to their local community college or university education.
Related: Dual Enrollment Programs: Your Pathway to College Credit
Related: Dual Enrollment and Receiving College Credits
High school graduates can expedite their degree paths as they will receive a credit towards a high school diploma and the four-year degree or two-year degree program they are heading towards.
Pro #3: There Are Many Different Programs And Majors To Choose From
If you're undecided about what you want to study or what type of career you want to pursue, community college can be a great way to explore your options without incurring a lot of debt.
Many community colleges offer courses to help you figure out what you want to do with your life. In addition, most community colleges have career counselors who can help you explore your options and determine what degree or training you need for your desired career.
Community colleges offer a wide variety of programs and majors, so you're sure to find something that interests you.
Technical schools and colleges play a prominent role in providing opportunities for students to achieve professional certificates or trade attributes that can be applied to the real world.
Whether you're interested in pursuing a career in healthcare, business, or something else entirely, there's a good chance you'll be able to find a program that's right for you at a community college.
Related Reading: Community College for Business Majors
Con #1: Limited Course Selection
A con of community college is the limited course selection. This means that students may not have access to the courses they need to complete their degree or certificate program. Community colleges offer a limited selection of courses compared to universities.
This means that students may not be able to take all the classes they want or need at community college, leading to frustration.
For example, if a student wants to study engineering, they will likely need to transfer to a university because community colleges do not offer engineering programs.
Students must research the courses offered at their local community colleges before enrolling. This way, they can be sure that the required courses will be available.
Con #2: Course Scheduling Can Be Difficult
Community colleges often have large class sizes and few course offerings per semester. This can make it difficult for students to get the classes they need to graduate on time.
In addition, some classes may only be offered once per year, which can further delay graduation. Some students may take summer or online classes to complete their degree on time.
Community college course scheduling can be difficult because there are many different classes and times to choose from.
This can be daunting for students trying to figure out what classes to take and when they fit into their schedules. Many different classes are also offered, so students might not know what they want to study yet and have trouble narrowing down their options.
Con #3: You may not have as much access to campus resources as students at four-year schools
Other cons of community college are the lack of activities and campus involvement. University students have various resources, activities, and events around campus, so they constantly feel involved with the campus community. These events mean a lot for garnering friends that can last a lifetime.
Related: How Transfer Students Contribute to University Culture
A negative associated with community colleges is that many cannot provide research opportunities, modernized facilities, or technical resources that contribute to a vibrant learning environment.
Lack of Sports Teams
Athletics are a big part of community colleges, but they are not in the same capacity as NCAA Division I institutions. Attending college at a four-year university likely means attending the local events of your university's sports teams.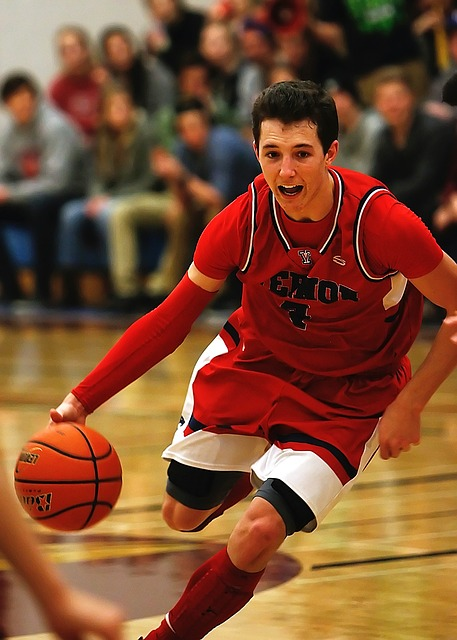 Competitive sports teams are a vibrant component of a four-year college, and it is always exciting to see your institution's school on the Top 25 athletic school rankings.
You are hardly receiving the same experience as most college students when you attend a community college, which can easily be construed as one of the most significant cons of community college or another local school.
Bonus Pro of Attending Community College
Community College Students can Finish Two Degrees
An often overlooked component of attending two-year schools is the ability to secure two degrees, an Associate's degree and a Bachelor's degree.
The latter is not provided by your local community college but instead notes the expectation that the student will become a part of the conglomeration of transfer students who finish their bachelor's degree programs at a four-year school.
Associate Degree
An associate degree is a two-year college degree that focuses on fulfilling the general education requirements necessary for transfer. Associate degrees are typically two-year degree programs, which last about half of your college years.
Some college or university departments have partnerships with local community colleges that guarantee admission into their higher education institution upon fulfilling the requirements for an associate degree.
When you finish the two-year degree and have a taste of the college experience, students can transfer to their desired college or university.
Bachelor's Degree
Most educational journeys end after a student receives a bachelor's degree and enters the job market. More often than not, a bachelor's degree will provide employment prospects that can sustain a career.
A university's ability to provide bachelor's degrees will always be one of the most significant university pros compared to community college.
Your academic career likely ends upon completion of a bachelor's degree program. As college graduates, you must prioritize your prospects and ensure that you pay off any student debt associated with community college costs and those incurred at universities, technical schools, or other technical programs.
Conclusion
Community colleges have their pros and cons, just like four-year universities. It's important to weigh the options carefully before making a decision about where to attend school. We hope this article has helped you make an informed choice about your future.
We discussed many topics in this post, including the affordability of community colleges, the ability to transfer courses, and granting an avenue by which students can learn to develop their interests and major declarations.
Widespread access to community colleges allows many students to attend college who may not have been able to otherwise. Community colleges also offer the ability to take classes part-time or online, which can be beneficial for working students or students with families.
However, community colleges often lack the resources of four-year universities, such as research opportunities and modern facilities. Community colleges also struggle to replicate university athletics and campus involvement activities, which can discourage opportunities for students to make friends that last a lifetime.
Suppose you have specific questions or concerns about a community college or university. In that case, it is recommended that you speak with academic advisors, admissions officials, or registrar personnel to seek specialized answers.
Please note that various community college systems have different requirements, and your path to transferring successfully depends on your understanding of the agreement between your local community college and four-year university.
At the end of the day, make sure you attend classes and evaluate a school search tool to identify the technical colleges or trusted partner programs near you.
What are your thoughts on community college? Let us know in the comments below.
California Transfer Support Network
We want to make sure that every California community college student has access to the resources they need to succeed in their academic career. We're urging all students to reach out to us for help.
We offer free transcript evaluations, course plans, resume reviews, and college application edits. We want to make sure that every student has the opportunity to get the most out of their community college experience. Contact us today to learn more!
As a registered 501(c)(3), all donations received are tax-deductible and will be used in coordination with fulfilling our mission as an organization. If you are interested in making a tax-deductible donation, you can do so HERE.
Our team appreciates the support and generosity of our donors, as it is because of their generosity that we can provide high-quality, personalized, and effective support to thousands of California Community college students.