If you're looking to apply to the University of California San Diego, you'll need to get familiar with the University of California Admissions Portal.
The UC Admissions Portal is an online interface used by the admissions offices of all nine University of California campuses.
Prospective students can submit one application to any of the nine UC campuses through the UC admissions portal.
If you're planning on applying to UCSD, this blog post will show you exactly what you need to do to successfully complete your application using the UCSD Application Portal.
Applying to college can be a daunting task, but using the UC Application Portal makes the process much simpler.
Create an account, fill out your basic information, and provide your academic history. Then make sure you allow plenty of time for the process, as there are many required steps. Also, don't forget to submit your application by November 30th!
Overview of the University of California San Diego (UC San Diego)
The University of California San Diego is a public research institution in San Diego, California. A member of the University of California (UC) higher education system, UC San Diego is one of nine undergraduate UC campuses.
UC San Diego is ranked No. 15 in the U.S. and No. 20 in the world by U.S. News and World Report's 2022-2023 Best Global Universities ranking, which ranks universities based on their research performance and how widely their academic publications are cited around academia.
UCSD is located in the beach community of La Jolla, CA, 92093. The campus is world-famous for its library and award-winning faculty. The institution is run by the regents of the University of California system. Additional information can be found on the UCSD website.
UC San Diego Admissions
The University of California San Diego is a highly competitive school with admissions requirements that reflect its reputation as one of the top public research universities in the country.
Located in sunny San Diego, UC San Diego is one of the most popular universities in the United States. With a diverse student body and top-ranked academics, UCSD has something for everyone.
Related: Guarantee Your Acceptance to a UC with TAG UC!
Related Reading: UC Application Portal: Applying to UCSD
The University of California San Diego enrolls over 39,576 undergraduate and graduate students. UC San Diego typically accepts students who have strong academic records, with particularly high standards for test scores and grades in key subject areas.
In addition, applicants may need to submit letters of recommendation if the department they are applying to requires it (although rare).
UCSD Major Programs & Offerings
UC San Diego offers more than 100 undergraduate majors throughout eight different disciplinary areas. The most popular major at UC San Diego is Social Sciences, followed by engineering and biology.
In fact, according to UC San Diego admissions data, approximately 17 percent of all undergraduate students major in biology, while 7 percent major in Economics and 29 percent in Other Major Departments.
The major you choose will greatly impact your UCSD application, particularly if you are a transfer student (which this article caters to).
UCSD Student Demographics
The University of California San Diego has an ethnically diverse and multicultural student body.
Approximately 37 percent of students at UC San Diego are Asian/Asian American, 20 percent are Chicano/Latino, 19 percent are White, and 17 percent are International Students.
Over 75 percent of UCSD students are between the ages of 19-25.
Just over three-fourths of undergraduate students at UCSD are from California. International and out-of-state students make up one-quarter of the undergraduate student body at UCSD.
Among the UC San Diego undergraduate student population, the distribution between men and women is nearly identical, with a 49 percent split between Men and Women.
The average high school GPA for the 2020 first-time first-year student cohort was 4.08; almost three-fourths had a GPA of 4.0 or higher.
Cost of Attendance at UCSD | Tuition & Fees
The cost of attending UCSD will depend on your specific circumstance. At UC San Diego, annual 2020-2021 undergraduate student tuition and fees are currently as follows:
$14,679 for California residents.
Non-California resident undergraduate students currently pay an additional annual amount of $29,754 for non-resident supplemental tuition
72 percent of all UC San Diego undergraduate students received financial aid or financial assistance from various federal, state, UC, or outside programs (i.e., grants, work-study, scholarships).
UC San Diego administered nearly $13.6 million in scholarships for undergraduate students in the 2020-2021 academic year.
1. What is the UCSD Student Application Portal?
The UCSD Application Portal is the interface where a student completes an application to UCSD. The UC admissions portal allows students to apply to any of the UC campuses. Still, students who only want to apply to UCSD can select the institution and continue with the application.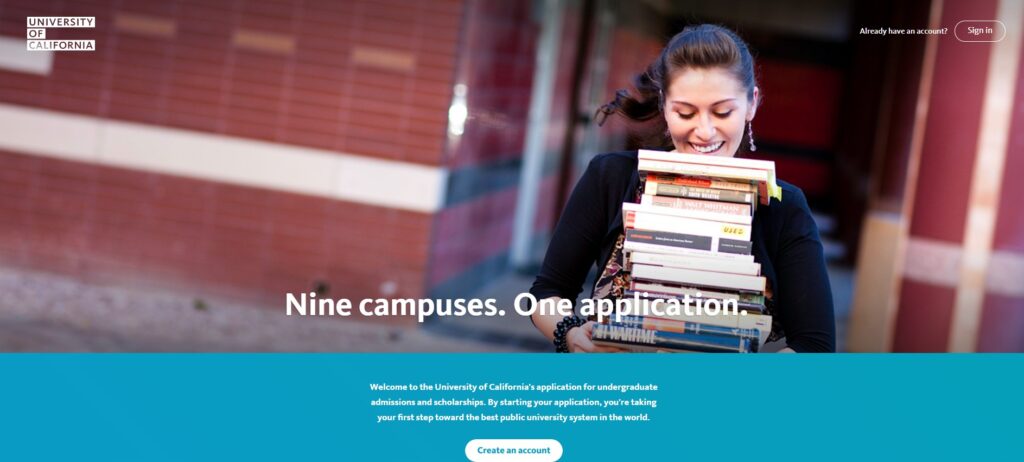 Read our Guide: 9 Things You Must Do in High School to be Competitive for UC Admission
2. How to Create an Account
If you are a new applicant, then UC San Diego will send you an email invitation to the Application Portal, where you can create an account.
To create your UCSD application account, you must provide basic information about yourself, including your full name, date of birth, and contact information.
Make sure you have all your academic documentation to ensure the application process goes smoothly.
3. How to Fill out your Basic Information
Basic information that the application instructs pertains to:
Name
DOB
Social Security Number
California Statewide Student Identifier (SSID)
More complex information is required on the other portions of the UC application, but current applicants will have to fill out the basic information about their life before they can enroll or apply to a UC campus.
4. How to Provide your Academic History
Transcripts (both official and unofficial) do not have to be sent until asked for by the institution.
The UC application system does not allow students to submit transcripts to the institution they are interested in because it is evaluated at a later date.
Recommended Reading: Are a "W" Withdrawals on Transcript Bad for Admissions Chances?
Related Reading: Using UC TAP for UC Transfer Admission Guarantee (TAG) Program
It is best to have a printed or electronic copy of your transcripts right next to you when filling out the Academic History portion of the application.
Students can reference the transcript when inputting previous coursework at prior institutions.
Ensure you find the requirements for the major disciplines you are applying to and find the correct information about school choice requirements and program disciplines.
UC San Diego Transfer Admission Planner (UC TAP)
Another helpful tool for including your academic history is the University of California San Diego Transfer Admissions Planner (UC TAP).
The Transfer Admissions Planner is an interface created by the UC system. It allows students to enter the institutions they attended (both high school and college), the courses and grade marks received, and AP/IB exams.
The UC Application Portal has a feature that allows students who have already created a UC TAP account to import academic data into the UC Application portal.
Suppose you do not have a UC TAP account. In that case, you will be asked to input the previous institutions you attended, whether you received a degree, the courses you took, grades you received, and any information about standardized test scores (AP, IB, TOEFL, etc.).
5. What are the Required Steps
Students are required to fill out the entire application. If a portion of the application is missing information, then the interface on the UC Application portal will almost always inform the user.
Recommended Reading: The Conclusive List of Capped Majors at UCSD | UC Admissions Dates & Deadlines 2023
You cannot continue submitting your application or moving on to the next step if the required information is missing.
Log into your account, select the institution you want, declare a major and another major, submit academic history information, and prepare for personal insight questions and accomplishments or awards sections.
6. When is the UC Deadline for Submissions
Applying to UC San Diego doesn't have to be a daunting task. If you start your application early, you'll have plenty of time to reflect on your experiences and get feedback from mentors.
August 1st is the date when the UC application will open for editing.
October 1 – November 30: UC Application Submission Period
UCSD Application Frequently Asked Questions (FAQ)
Can I Make Changes to My UC Application After Submitting It?
If you need to make changes to your UC San Diego application after submission, you can log into your UC Application portal and edit the required information. Information that can be edited includes:
Telephone Number
Mailing Address
Email Address
TOEFL or International Exam Scores
However, remember that some changes may significantly impact your admission decision, so be sure to carefully consider which updates are necessary before submitting them.
If you need additional support with making changes to your application, feel free to reach out to the UCSD Admissions team.
Am I Able to Submit Academic Updates to My UC Application After Submission?
From October to January, applicants may update their choices of major and college rankings on the Applicant Portal.
First-year students can submit academic changes to the Academic Update Notification Form in the portal.
To submit a Transfer Academic Update, transfer students must log into UC Application by January 31st–the priority deadline.
Conclusion
Overall, UC San Diego is an amazing school located in the gorgeous community of La Jolla. Applicants will enjoy the benefits of learning from award-winning faculty, many of whom have been published in research journals across the world.
Applicants will receive additional information about their UCSD application when they receive an email with a PIN verification code.
Once received, students can fill out the subject material in the UC Admissions portal and solidify themselves as applicants to UCSD.
Make sure you study the undergraduate colleges within UCSD. Applicants are required to rank the colleges they like the most when submitting an application to UCSD.
Other than that, be prepared to dip your feet in the warm sand on La Jolla beach while receiving a world-class education and an experience you will never forget for your whole life.