Deciding whether or not to go to a trade school is a big decision. Though often viewed as a last resort, trade schools can offer students many benefits that traditional four-year colleges cannot. Let's take a look at some of the pros and cons of trade schools.
What are the Pros of Trade School?
Pro #1 – Trade Schools are Flexible
Trade schools attract a different type of student than those who attend a four-year college. Prospective trade school students likely have already immersed themselves in the job market and have external responsibilities like work, raising a child, or caring for a sick loved one.
They are flexible in that it serves students of all ages, backgrounds, and needs. Trade schools offer students the chance to build their skills for specific jobs, which is especially beneficial for those who do not want or cannot obtain a four-year degree from a traditional college or university.
This flexibility allows trade schools to serve many different groups of people, including adults returning to school and high school graduates looking to enter the workforce early.
Related Reading: Everything You Need to Know About Trade Schools
Trade schools focus their efforts on developing vocational programs that are diverse in nature and encompass several different industries, occupations, and skilled trades.
Trade School Programs Include:
Automotive Technician
Dental Assistant
Heating, Ventilation, and Air Conditioning (HVAC)
Pharmacy Technician
Welding
Electrician Technician
Medical Billing and Insurance Coding
Moreover, many trade schools offer night and evening classes, making them available for students who work full time or have family obligations.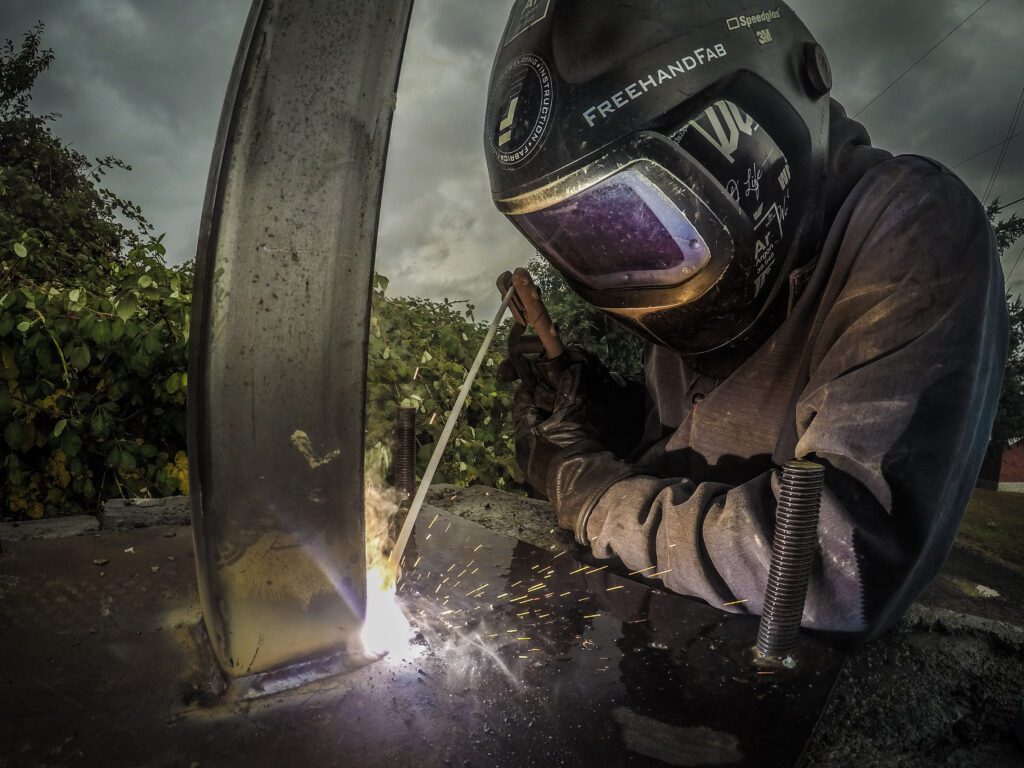 In the college and trade school debate, accessibility is an often overlooked factor. Still, I would argue it is critically important for those students who are unable to accommodate a traditional school schedule (mainly due to work or family responsibilities).
This flexibility is appealing to many people, as it allows them the freedom to advance their careers and obtain higher wages with less time and effort than traditional colleges often require.
Pro #2 – Trade Schools are Affordable & Help Avoid Student Debt
Trade schools offer a less expensive and practical education than traditional four-year colleges. This allows students to avoid crippling student loan debt. A college degree is not like it used to be, especially in today's time, where globalization and technology are evolving rapidly.
A traditional college education is simply unaffordable in contemporary society, and taking out loans to pay for two years of general education courses is financially irresponsible (especially since you can knock those credits out at your local community college for a quarter of the unit cost).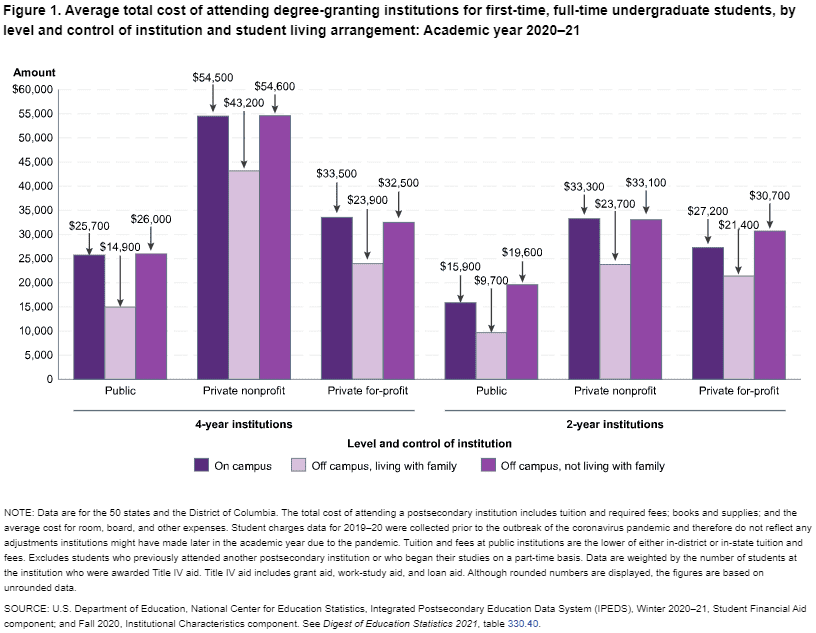 Although the amount of debt varies, the total amount of student loan debt in the United States is a whopping $1.7 trillion. The average graduate with a bachelor's degree holds $30,000 in student loan debt. On the other hand, those who attend trade school have an average debt of only $10,000.
The trade school vs college debate is often settled on the question of affordability. Higher education is something everyone should be allowed to receive. Still, the contemporary system bars millions of young adults who do not want to be bogged down by student loan debt and monthly debt repayments.
A vocational school is more affordable than a college education and helps you learn practical skills that can be applied in the real world. As a result, trade schools provide an excellent option for students who want to get a job-relevant education without incurring a lot of debt.
Trade school students can change their title to trade school graduates upon receiving a certificate after successful completion of their vocational training.
Pro #3: You can get Started in Your Vocational Career Sooner.
Another pro of vocational schools is that you can get started in your career sooner than if you went to a traditional four-year college. Most trade school programs can be completed in two years or less. That means you can start working and earning a paycheck sooner rather than later.
The report found that at most public universities, only 19 percent of full-time students earn a bachelor's degree in four years. Even at state flagship universities — selective, research-intensive institutions — only 36 percent of full-time students complete their bachelor's degree on time.
College students traditionally take six years to graduate rather than the expected four. Those two extra years are not free; college tuition is only rising as the years draw on. A trade school program can be completed in as little as a few months to a maximum of a year (mostly).
What are the Cons of Trade School?
Con #1: You Might Make Less Money When You First Start Out.
When you first start out in a trade school, you will likely make less money than someone with a college degree. This is because many jobs in the trades require on-the-job training, which leads to lower wages at the beginning.
Although you'll likely have less debt when you graduate from trade school, your earning potential is low and will only rise with years of experience and on-the-job training.
According to the U.S. Bureau of Labor Statistics, workers with a bachelor's degree had median weekly earnings of $1,305 in 2020, compared with $781 for workers with a high school diploma, $877 for workers with some college education, but no degree, and $938 for associate degree holders.
Similarly, the unemployment rate for bachelor's-level workers was 5.5 percent, compared with 9.0 percent for those whose highest level of education was a high school diploma, 8.3 percent for some college, no degree holders, and 7.1 percent for those whose highest level of education is an associate degree.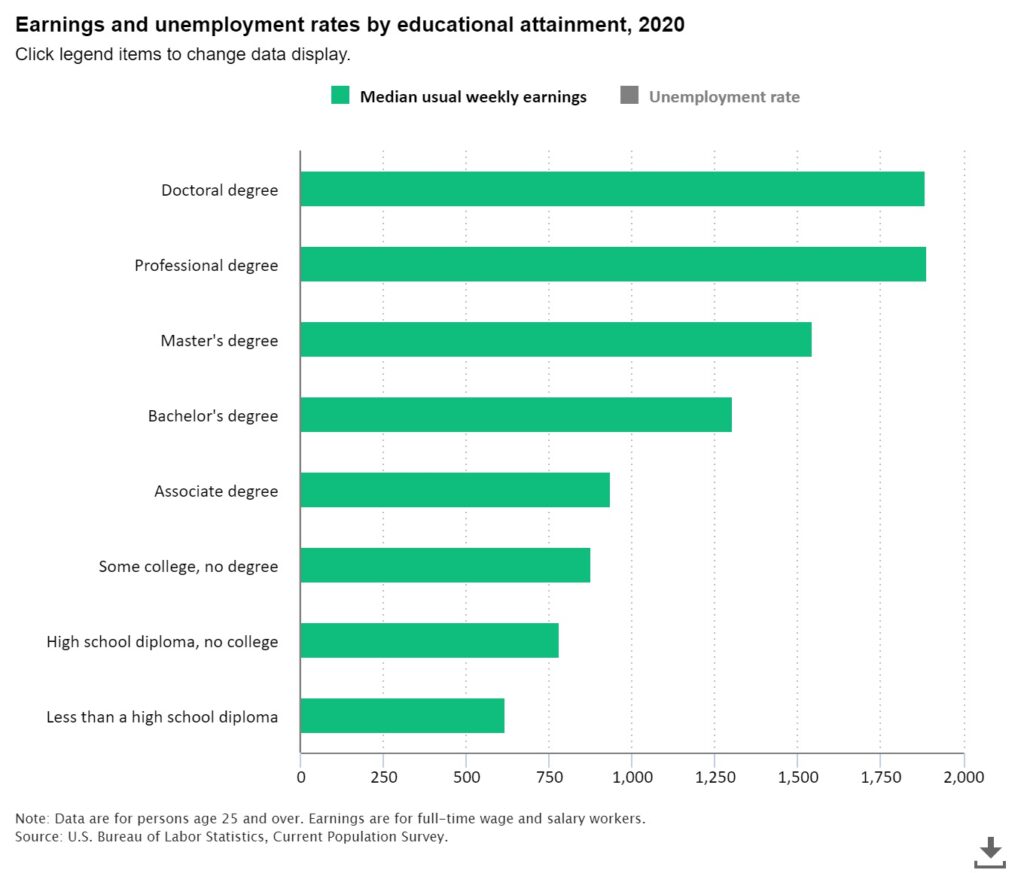 Con #2: Fewer Job Options Available & Lack of College Degree.
Another con of trade school is that you have fewer job options once you graduate than if you had gone to a traditional four-year college.
A four year university will teach students through a framework of broader education, whereby the first two years are general education courses (i.e., Math 101, English 101, etc.), and the last two years are major intensive years (students take major-specific courses that are requirements for fulfilling the degree programs requirements).
College graduates were also exposed to elective courses in areas like philosophy, mechanical engineering, or any other subject that they had a curiosity or interest in.
Such creative freedom and autonomy are incapable of forming at a trade school because a trade school education has to focus on a specific trade, skill, or industry to best prepare students for a career path.
With a college degree, you can work anywhere, but your job options are more limited with a trade school degree. In this pursuit, trade schools teach skilled trades that prepare students for industries suffering from a skilled labor shortage.
Irrespective of the path you choose, it is vital to recognize that trade schools are focused on one task: preparing students for the workforce as quickly and efficiently as possible.
Trade schools are the perfect way to gain new skills and enter the workforce quickly. By offering concise programs that focus on developing practical skills, trade schools help fill important job vacancies in America, or so we tend to think.
In writing this article, I was unable to find any existing literature discussing the difficulties faced by trade school students in the modern workforce. While job security is often touted as a benefit of attending trade school, this only holds true if there is a demand for skilled workers in that particular field.
For example, students receiving a certificate in an industry like web design may have been in demand five years ago. Still, modern technology has created automated website builders where users can literally drag, click, and type on an already pre-made template.
Con #3: Limited Financial Aid Options for Trade School Students
Although trade school is more affordable than a traditional four year university, there remain some negatives. Typically, trade school students find themselves at a disadvantage when it comes to financial aid.
While college graduates can take advantage of loans and scholarships, technical school students typically have limited options. This can make it difficult for students to afford the cost of tuition.
As a result, many students are forced to take out loans or work full-time while attending school. This can put a strain on both their finances and their ability to complete their courses.
Although trade school students may apply for federal financial aid, they will probably find fewer financing options in total. Prospective trade school students should consider their financial aid options before enrolling.
Conclusion
There are pros and cons to everything in life, and deciding whether or not to go to a trade school is no different. You must weigh all of the factors before making a decision so that you can make the best choice for yourself and your future career prospects.
The trade school vs college debate will continue for years to come. It will be interesting to see how the higher education landscape changes, specifically in making it more affordable, with the rise in competition from technical schools and two-year community colleges.